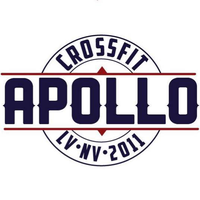 Crossfit Apollo

CrossFit Apollo is a 3,500 sq/ft. fitness coaching facility located at 6535 North Buffalo #160. We offer group and individual coaching, utilizing the CrossFit methodology. CrossFit workouts are comprised of constantly varied functional movements (like pushing, pulling, squatting, lifting, running) executed at high intensity.Our training methods produce undisputed, tangible results for all levels of fitness; from children to elite athletes, and everything in between.
Localisation
États-Unis, Las Vegas
Informations sur la salle de sport:
Ce gymnase n'a pas de plan d'entraînement.
Si vous êtes le propriétaire ou l'administrateur de cette salle de sport, vous pouvez en prendre le contrôle et obtenir un accès complet à la gestion de cette page.