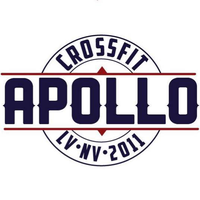 Crossfit Apollo

Estados Unidos
,
Las Vegas
CrossFit Apollo is a 3,500 sq/ft. fitness coaching facility located at 6535 North Buffalo #160. We offer group and individual coaching, utilizing the CrossFit methodology. CrossFit workouts are comprised of constantly varied functional movements (like pushing, pulling, squatting, lifting, running) executed at high intensity.Our training methods produce undisputed, tangible results for all levels of fitness; from children to elite athletes, and everything in between.
Ubicación
Estados Unidos, Las Vegas
Este gimnasio no tiene un plan de entrenamiento.
Si usted es el propietario o administrador de este gimnasio, puedes tomar el control y obtener acceso total a la administración de esta página.
Los clubes más populares:
Este es el gimnasio más popular
Ver todo >