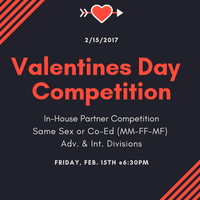 CrossFit Whittier V-Day Competition

15-Feb-2019
12-00
/
15-Feb-2019
CrossFit Whittier 12217 Philadelphia St.
Open only to CrossFit Whittier members, we will host a fun and friendly partner competition. Grab your workout partner in the gym and sign up to participate in the fun! We will have two divisions (beginner and advanced) making this fun competition doable for anyone. Teams can be any sex (Male/ Male, Female/Female, and Male/Female). Party starts Friday night at 6:30pm until 8:30pm. Each two person team will have the opportunity to do two workouts and fight for a chance to make it on our winners podium! Winners will be awards prizes! We hope to see all of you there for some good fun and fitness!
LOCATION
United States, Whittier
CrossFit Whittier 12217 Philadelphia St.