Training program for Kettlebell Snatch competition
Trainings
Kettlebell lifting
Master of Sports Yuri Orlov, talks about the discipline "Guards Kettlebell Snatch", which is gaining popularity, is a Kettlebell Snatch with an arbitrary change of hands. It also gives advice and gives an example of a training program for competitions, which is suitable for both beginners and amateurs, as well as professional athletes (Kettlebell lifters) who plan to perform at competitions.
Author: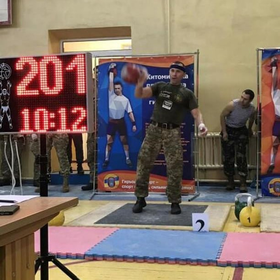 Description
Training program for Kettlebell Snatch competition with optional hand switch.
Recently, in the world community of kettlebell lifting, there has been an active development of a separate competitive discipline such as Kettlebell Snatch with optional hand switch within a 12-minute set. This movement is gaining popularity especially in the Armed Forces and other force structures, as you can perform training in almost any conditions due to the simplicity of the exercise and a minimum number of kettlebell weights required. In Ukraine, this movement is called "Guards Kettlebell Snatch", in Russia – "Army Kettlebell Snatch". Army competition may differ from civilian, because the exercise is performed in military uniform - pants, T-shirt, combat boots.
An optional hand switch and a time limit of 12 minutes are the main difference from the classic snatch, which is performed in kettlebell lifting competition for up to 10 minutes with only one hand change. In this version of Kettlebell Snatch (in comparison with the classic snatch), the key distinction is the high tempo of work, and, consequently, the high level of strength (special) body endurance, and also the ability to relax a forearm and a hand, which is not the main condition for the classic version. Besides, there are already examples when at competition (in a snatch with an optional hand change) representatives of other sports showed better results than kettlebell lifting athletes. "Beginners" even managed to win professional kettlebell lifters of the master of sports level. That means, this exercise is suitable for almost all representatives of strength sports and endurance sports, as a means of general physical training. The athlete has even chance to take part in kettlebell lifting competition in this discipline, without being a kettlebell lifter.
Training program – "Guards Kettlebell Snatch"
The program provides not only Kettlebell Snatch with an optional hand change, but also the options for training with classic kettlebell snatch are included.
The training weights are approximately subdivided into:
- the main (competitive) weight – the weight of the kettlebell, which will be used in competition or tryout;
- medium (lightened) weight – minus 2-4 kg from the main weight;
- light weight – minus 6-8 (and more) kg from the main weight.
The division into periods of loads in the macrocycle:
- training week is a microcycle;
- 3 microcycles make up a mesocycle;
- 3 mesocycles make up a macrocycle.
For the proportional muscle development, it is recommended in the program to make a hand change every minute, but this is not a strict rule. It is optional to decide when and how to switch hands, but it is advisable to follow tactically the path of least resistance.
In our version: 32 kg is the main weight, 28 kg – medium (lightened) and 24 kg is the light weight.
The beginners, who have mastered the basic technique of kettlebell snatch, can start with the minimum weights – 16, 12, 8 kg, or choose any of the options according to the own physical condition.
The options of the snatch exercises to be used in the workouts.
1) Alternating Kettlebell Snatch is an optional hand change, but it is recommended to perform exercise with each hand of the same duration (for example, as in the program – 1 minute per each hand) for balanced muscular development.
2) Kettlebell Snatch – first work out with one hand, then rest time = work time, and then do the same exercise with the second hand (according to the program – 10 minutes for the left hand, then 10 minutes of rest and 10 minutes for the right hand).
3) Kettlebell Snatch and swing – before each full snatch, firstly, the athlete should do the swing of the kettlebell approximately to the waist-high level or slightly higher (the goal is to train the forearm, back, and to snatch kettlebell). There may be options: with one hand change, for example, 10 minutes (about 5 minutes per hand), and separately – for each hand with a time limit of 10 minutes and a 10-minute rest between sets (if for some reason it is hard to perform within 10 minutes, then train according to the way – time of working out with one hand = time of rest before working out with second hand).
4) Kettlebell Snatch with one hand change.
5) Kettlebell Snatch interval – in our version we work out within one minute per each hand with a short rest pause between sets.
1st Mesocycle (Preparatory)
1st microcycle
Tuesday / Snatch with change (slow tempo like for 32 kg), 24 kg: 1'+ 1' = 12'
Friday / Classic snatch, one switch (slow tempo), 24 kg: 5'+ 5' = 10'
2nd microcycle
Tuesday / Snatch with change (tempo like for 32 kg), 28 kg: 1'+ 1' = 12'
Friday / Snatch separately with swing, one switch (tempo according to own preference), 24 kg: 5'+ 5' = 10'
3rd microcycle
Tuesday / Classic snatch, one switch (maximum tempo), 24 kg: 5'+ 5' = 10'
Friday / Snatch with change (maximum tempo), 24 kg: 1'+ 1' = 12'
2nd Mesocycle (Extensive)
1st microcycle
Tuesday / 1) Snatch with change (competitive tempo), 32 kg: 1'+ 1' = 4'
2) Snatch with change (tempo according to own preference), 24 kg: 1'+ 1' = 14-16'
Friday / Snatch separately (tempo according to own preference), 24 kg: Left - 10'/ Rest - 10' / Right - 10'
2nd microcycle
Tuesday / Snatch separately with swing (tempo according to own preference), 24 kg: Left - 10'/ Rest - 10' / Right - 10'
Friday / 1) Snatch with change (competitive tempo), 32 kg: 1'+ 1' = 6'
2) Snatch with change (tempo like for 32 kg), 28 kg: 1'+ 1' = 12'
3rd microcycle
Tuesday / Snatch with change (maximum tempo), 28 kg: 1'+ 1' = 12'
Friday / Snatch with change (tempo according to own preference), 24 kg: 1'+ 1' = 18-20'
3rd mesocycle (Competitive)
1st microcycle
Tuesday / Snatch Interval (maximum tempo), 32 kg: 6x1'+ 1' = 12'/ Rest - 30''
Friday / Classic snatch, one change (maximum tempo), 28 kg: 5'+ 5' = 10'
2nd microcycle
Tuesday / Snatch with change (competitive tempo), 32 kg: 1'+ 1' = 10'
Friday / Snatch with change (competitive tempo), 32 kg: 1'+ 1' = 8'
3rd microcycle
Tuesday / Snatch, 32 kg: 1'+ 1' = 6'
Saturday / Competition (Tryout) – Snatch with an optional hand change, 32 kg: 12'