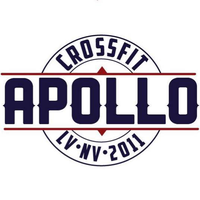 Crossfit Apollo

Vereinigte-Staaten
,
Las Vegas
CrossFit Apollo is a 3,500 sq/ft. fitness coaching facility located at 6535 North Buffalo #160. We offer group and individual coaching, utilizing the CrossFit methodology. CrossFit workouts are comprised of constantly varied functional movements (like pushing, pulling, squatting, lifting, running) executed at high intensity.Our training methods produce undisputed, tangible results for all levels of fitness; from children to elite athletes, and everything in between.
Ortung
Vereinigte-Staaten, Las Vegas
Information über das Fitnessstudio:
Dieses Fitnessstudio hat keinen Trainingsplan.
Wenn Sie Eigentümer oder Administrator dieses Fitnessstudios sind, können Sie die Kontrolle übernehmen und vollen Zugriff auf die Verwaltung dieser Seite erhalten.