Why do you need Improve your health right now
Article
Fitness
Many of us in our lives arrived in different physical forms and had different states of health. We used to bring ourselves in shape and were "at the peak", and it happened that everyone threw up with a promise to ourselves somehow later to return and make up for everything. Now here are just things to rake ... And there are those who have never been in good shape.
Author: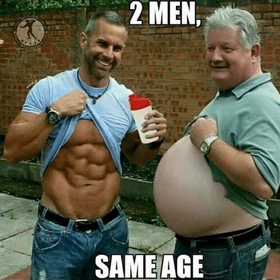 Description
If you have such friends, send them this text.
It is about why you can not postpone an active lifestyle for later or put it "on pause". I put quotes because in fact there is no pause. To simplify understanding, I will give an analogy.
Imagine your health in the form of a locomotive standing on rails. Improving your health is moving it forward. With the locomotive the most difficult thing is to move it and start moving. If the locomotive moves, even very slowly, it can be pushed with at least one finger and it will pick up speed. And the faster the speed, the harder it is to stop this locomotive. Therefore, if you decide to suddenly pause your training until better times, your locomotive stops. And it is not easy to move it again from its place. And here comes the most interesting. Rails are actually at a small angle. And the name of this angle is time, or rather aging. And your locomotive standing, as you thought, begins to slowly but surely roll in the opposite direction. Then, a wagon called "extra weight" is attached to this locomotive, followed by a wagon called "heart problems" and such wagons as "high pressure", "cholesterol plaques", "high sugar", "shortness of breath", etc. d. the list goes on and on. And now you have not had time to recover, and your locomotive has already picked up speed and is moving. Only here is not in that direction! And now it's not just necessary to move it, but first to slow down, stop and force it to move in another direction, at least to the place where you left it "during a pause".
These paths are opposite and mutually exclusive. One leads to active life for many years, without a pharmacy, blood pressure monitor, injections and complaints about all your sores peers. Another to heart attack or stroke. No options. Disregard for yourself and postponing for later will not lead you to anything else. This is how human physiology works. And if you think that you are special and will carry you, do not worry. Will not carry. Even if you live for 100 years, what is the point, if the last 40 of them you are weak, weak and in need of care? Such a life you wanted yourself? This is a choice between two options: short-term discomfort (in the form of training) for the sake of long-term growth, or short-term pleasures with long-term problems in the end. Which option to choose? Decide for yourself, just do not be surprised if you wake up at 62, and you have already died. Or worse, a stroke paralyzed half the body. Think about it when you will raise another toast to health. Better yet, lift your ass and finally go to the gym!