How do U.S. Marines stack up when it comes to conquering the Navy SEALs fitness test?
Article
Functional fitness (aka CrossFit)
How do U.S. Marines stack up when it comes to conquering the Navy SEALs fitness test?
Author: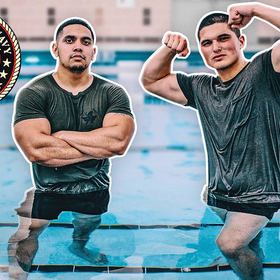 Description
How do U.S. Marines stack up when it comes to conquering the Navy SEALs fitness test?
Armando Nava Jr. (a.k.a NavaTheBeast) served in the U.S. Marines for four years before taking to YouTube to vlog about life after the military. While he's not training with SWAT teams and teaching powerlifters how to crush the brutal Marine Corps. physical fitness test, Nava can be found demonstrating the extensive lessons he learned from the Marines while putting his body through hell. In a recent video, Nava brought his friend and fellow veteran, Marcus Perez in front of the camera to see if they could both take on the famously grueling U.S. Navy SEALs Physical Fitness Test (PFT).
Nava's version of the test wasn't exactly what you'd have to take on if you were trying to be a SEAL yourself—the standard test calls for a 500 yard swim in 12 minutes, 30 seconds, 50 pushups in 2 minutes, at least 50 curlups (situps) in 2 minutes, at least 10 pullups in 2 minutes, and a 1.5 mile run in at least 10 minutes and 30 seconds. Nava and Perez flip the order and do the run first, then skip the curlups entirely. Since they're not planning to enlist, we'll cut them some slack.
The first portion of the test is a 1.5 mile run, which Nava knocks out in 10 minutes and eight seconds—about 6:39 per mile. Perez' time is considerably slower but finishes in just under 17 minutes.
"I haven't run in a minute," says an out of breath Nava, but this is a good start." With Marcus running in the background, Nava reminds his audience to use his video for inspiration as what he's doing is "easy to watch, but hard to do."
Next up: pushups. Navy SEALs need to do at least 98 reps to qualify for the "Optimum" distinction; Nava and Perez are aiming for 100. The guys hammer away at the 100-pushup goal, sweating through the pain as Nava narrates.
"The only way you're gonna get better is by putting yourself through that pain and that suffering, because that's what's going to mold you and that's what's going to make you a stronger individual."
Seventy pushups in, Nava is unable to continue and taps out of the challenge, while Marcus just makes it to 100. As the guys rise from the floor, physically shaking, they head inside to handle the next portion of the fitness test: pullups.
Nava and Marcus only have to make it to 15 to meet the Optimum requirement, but they aim for 20. After each hitting the target reps, Marcus and Nava head out to conquer the very last challenge: a 500-meter swim.
"We pushing through this pain," says Nava as he prepares to swim 10 laps, "and so should you. Let's go finish this test."
The guys absolutely go beast-mode during the final swim, clocking in at eight minutes and five seconds.
"I'm sore and hungry," says Marcus, "I'm just glad I attempted it."
As the video wraps, Nava once again tells viewers to not only watch his videos but go out and actually do what he's doing yourself. After a 1.5 mile run, pushups, pullups, and a swim, Nava showcases the physical toll the body goes through to make the cut for the elite branches of the military.